Posts for: April, 2021
By Lee Oppenheimer, DDS, PA
April 18, 2021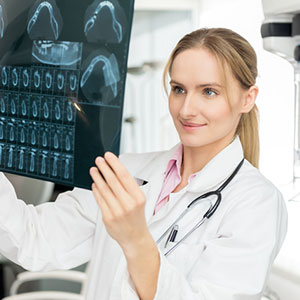 Imagine that the IRS wants to audit you, but the dog ate your receipts. Or you hit a $50 million Lotto jackpot, but your ticket went through the wash. Or maybe you're about to see your new dentist, but you don't have your past dental records.
Humdrum as they may seem, records are important—so much so that they have their own month. That's right: April is Records and Information Management Month. Though perhaps not as exciting as National Poetry Month, this is still a good time to consider how records keep your life and health on track—especially regarding your mouth.
Your dental records contain information on all your office visits, imaging (yep, all those x-rays), diagnoses and treatments. Just like other healthcare records, they're privacy-protected under The Health Insurance Portability and Accountability Act (HIPAA).
Your dental records may also contain information about other aspects of your overall health that could impact your long-term dental care. With all that information, dental records are important to your ongoing care, and should be available wherever you receive treatment—even if you change to a new dentist.
Which can happen? Your long-time dentist may retire—or maybe you move to another state. You may just decide you'd be happier with another dentist. But regardless of why your provider changes, your dental needs don't.
Without your records, your new dentist starts your care virtually from scratch, having to generate a new patient history and perform additional x-rays or examinations. And they won't have the benefit of nuances available to a dentist who may have treated you for a long time. But with your dental records in hand, they can often pick up where your other dentist left off without missing a beat.
It's in your oral health's best interest, then, to ensure your dental records transfer from your former dentist to your new one. Legally, these records are the property of the dentist, but you're entitled to a copy or to have them transmitted directly to another provider. You may, however, have to pay for any supplies and labor involved with printing, copying or mailing the records.
Do you feel awkward asking your former dentist to send your records to a new one? Not a problem—ask your new dentist to request them for you. Even if you have an unpaid balance, your former dentist is legally required to comply with the transfer.
When it comes to your oral health, "What is past is prologue." The dental care you receive today and tomorrow depends on the care you received yesterday. Your dental records help make sure it's a seamless progression.
If you would like more information about the importance of dental records, please contact us or schedule a consultation.
By Lee Oppenheimer, DDS, PA
April 08, 2021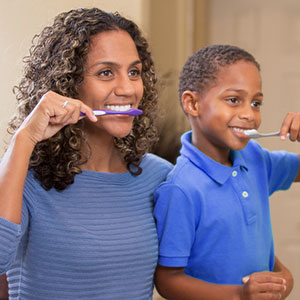 Do you want to give your child something that will benefit them the rest of their life? Then give them the gift of healthy teeth and gums.
Such a gift doesn't come wrapped in a box with a bow on it—you bestow it first by ensuring they receive the utmost in dental care during their formative years. Even more importantly, you instill in them good oral care habits that will protect their dental health for the rest of their lives.
Oral Hygiene 101. Daily hygiene—brushing and flossing to remove disease-causing dental plaque—is the foundation for maintaining a lifetime of optimal dental health. Early on, you'll have to perform these tasks for your child, but the true gift is in teaching them to brush and floss effectively for themselves (and your dentist can help too!).
How's my brushing? There's oral hygiene—and then there's effective oral hygiene. For a quick check, there's a simple test you can teach your child to make sure they're brushing and flossing correctly: Just after they finish, have them rub their tongue all along their teeth. If the teeth feel smooth, they've made the grade! If it feels gritty, though, they'll need to try again. (For better accuracy, you can also purchase a disclosing solution at your local pharmacy that when applied to teeth will reveal any remaining plaque.)
Eating for dental health. Instilling the values of proper nutrition not only promotes your child's overall health, it can also help them have healthier teeth and gums. Foods rich in vitamins and minerals, especially vitamin D, calcium and phosphorus, help build strong teeth and bones. Avoiding processed foods, especially those with added sugar, helps them avoid tooth decay or gum disease.
Mouth protection from injury. As your child grows and becomes more active, they're more at risk for injury to their mouth, teeth or gums. Help them break habits like chewing on hard objects, and insist on them wearing a mouthguard while playing sports. As they enter the teen years, encourage them to avoid "mouth jewelry" that could damage their tooth enamel.
These values and practices are often woven into the fabric of everyday life. They take relatively little time, but they can make a huge impact on your child's oral health future.
If you would like more information on dental care for kids, please contact us or schedule an appointment for a consultation. You can also learn more about this topic by reading the Dear Doctor magazine article "How to Help Your Child Develop the Best Habits for Oral Health."