Posts for tag: crown lengthening
By Lee Oppenheimer, DDS, PA
August 16, 2021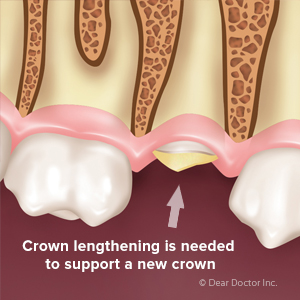 A crown — a life-like "cap" made of dental porcelain that permanently covers an existing tooth — is an effective way to restore a still-viable decayed or broken tooth's appearance. Properly fitting the crown over the tooth requires some healthy tooth structure above the gum line.
But what if the tooth has broken down to the gum line? In this case, we would need to perform a common procedure known as crown lengthening to expose more of the tooth.
Crown lengthening is a minor surgical procedure performed with local anesthesia to numb the tooth, surrounding gum tissues and supporting bone. We first make tiny incisions inside the gum-line on both the cheek and tongue side of the tooth to expose the bone, and then carefully remove a small amount of bone from either side of the tooth; this will expose or "lengthen" the tooth. Once finished, we suture the gum tissue back into place with self-dissolving sutures against the bone and tooth.
Most procedures take only sixty to ninety minutes, and the mild discomfort afterward is usually managed with pain relievers like ibuprofen. While the gum tissues may appear to be healed after a week, we typically wait six to eight weeks to perform the final crown restoration to give the tissues time to fully mature.
Crown lengthening may not work in all situations, especially with a severely fractured tooth. In these cases, we may need to evaluate the long-term viability of the tooth and consider other restorative options. Depending on your bite, it may also be necessary to treat with orthodontics first: not only will the tooth move into a better position, but the treatment may move both the gum and bone down with the tooth. Subsequent crown lengthening will then only affect the intended tooth and not adjacent ones, resulting in a more even smile.
The first step is for us to decide after a thorough examination if you would benefit from crown lengthening. If so, this minor surgical procedure could pave the way for better mouth function and a more attractive smile.
If you would like more information on crown restorations, please contact us or schedule an appointment for a consultation.
By Lee Oppenheimer, DDS, PA
July 08, 2020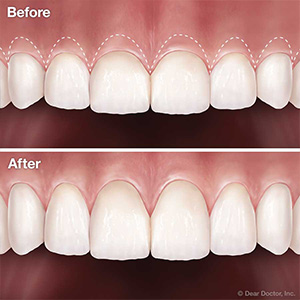 While we often associate tooth decay with cavities forming in a tooth's visible or biting surfaces, the occurrence of this all too common disease isn't limited to those areas. Cavities can develop in any part of a tooth exposed to bacteria.
Gum recession, the shrinking back of the gums from the teeth, can cause such exposure in areas normally covered by the gums. Because these areas are usually more vulnerable to infection when exposed, cavities can develop at or right below the gum line. Because of their location it can be difficult to fill them or perform other treatments.
One way to make it less difficult is to perform a crown lengthening procedure. While the term sounds like we're increasing the size of the tooth, we're actually surgically altering the gums to access more of the affected tooth surface for treatment. It's typically performed in a dental office with local anesthesia by a general dentist or a periodontist, a specialist in the gums.
During the procedure, the dentist starts by making small incisions in the gums to create a tissue "flap" that can be lifted out of the way. This exposes the underlying bone, which they then reshape to support the gum tissue once it's re-situated in its new position. The dentist then sutures the gums back in place. Once the gums heal, the decayed area is ready for treatment.
Crown lengthening is also useful for other situations besides treating cavities. If a tooth has broken off at the gum line, for example, there may not be enough remaining structure to support a crown. Crown lengthening can make more of the underlying tooth available for the crown to "grab" onto. It's also useful in some cases of "gummy smiles," in which too much of the gum tissue is visible in proportion to the tooth size.
Because crown lengthening often involves removing some of the bone and is thus irreversible, you should discuss this procedure with your dentist in depth beforehand. It could be, though, this minor procedure might make it easier to preserve your teeth and even make them look more attractive.
If you would like more information on crown lengthening, please contact us or schedule an appointment for a consultation.