Posts for tag: oral health
By Lee Oppenheimer, DDS, PA
December 31, 2019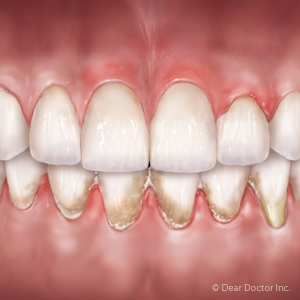 Periodontal (gum) disease can cause a number of devastating effects that could eventually lead to tooth loss. However, you may be more prone to a particular effect depending on the individual characteristics of your gums.
There are two basic types of gum tissues or "periodontal biotypes" that we inherit from our parents: thick or thin. These can often be identified by sight — thinner gum tissues present a more pronounced arch around the teeth and appear more scalloped; thicker tissues present a flatter arch appearance. While there are size variations within each biotype, one or the other tends to predominate within certain populations: those of European or African descent typically possess the thick biotype, while Asians tend to possess the thin biotype.
In relation to gum disease, those with thin gum tissues are more prone to gum recession. The diseased tissues pull up and away (recede) from a tooth, eventually exposing the tooth's root surface. Receding gums thus cause higher sensitivity to temperature changes or pressure, and can accelerate tooth decay. It's also unattractive as the normal pink triangles of gum tissue between teeth (papillae) may be lost, leaving only a dark spot between the teeth or making the more yellow-colored root surface visible.
While thicker gum tissues are more resilient to gum recession, they're more prone to the development of periodontal pockets. In this case, the slight gap between teeth and gums grows longer as the infected tissues pull away from the teeth as the underlying bone tissue is lost. The resulting void becomes deeper and more prone to infection and will ultimately result in further bone loss and decreased survivability for the tooth.
Either of these conditions will require extensive treatment beyond basic plaque control. Severe gum recession, for example, may require grafting techniques to cover exposed teeth and encourage new tissue growth. Periodontal pockets, in turn, must be accessed and cleaned of infection: the deeper the pocket the more invasive the treatment, including surgery.
Regardless of what type of gum tissue you have, it's important for you to take steps to lower your risk of gum disease. First and foremost, practice effective daily hygiene with brushing and flossing to remove bacterial plaque, the main cause of gum disease. You should also visit us at least twice a year (or more, if you've developed gum disease) for those all important cleanings and checkups.
If you would like more information on hereditary factors for gum disease, please contact us or schedule an appointment for a consultation. You can also learn more about this topic by reading the Dear Doctor magazine article "Genetics & Gum Tissue Types."
By Lee Oppenheimer, DDS, PA
November 21, 2019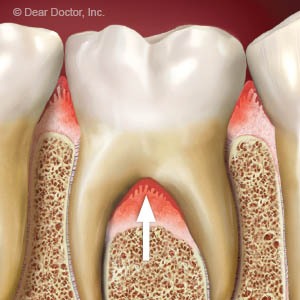 Periodontal (gum) disease causes more than simple gum swelling—this bacterial infection can harm and destroy your teeth's supporting structures, including the bone. Its aggressiveness sometimes requires equally aggressive treatment.
Gum disease usually begins with dental plaque, a thin film of bacteria and food particles on tooth and gum surfaces. Without proper oral hygiene plaque builds up with large populations of bacteria that can trigger an infection.
The growth of this disease is often "silent," meaning it may initially show no symptoms. If it does, it will normally be reddened, swollen and/or bleeding gums, and sometimes pain. A loose tooth is often a late sign the disease has severely damaged the gum ligaments and supporting bone, making tooth loss a distinct possibility.
If you're diagnosed with gum disease, there is one primary treatment strategy—remove all detected plaque and calculus (tartar) from tooth and gum surfaces. This can take several sessions because as the gums begin responding to treatment and are less inflamed, more plaque and calculus may be discovered.
Plaque removal can involve various techniques depending on the depth of the infection within the gums. For surfaces above or just below the gum line, we often use a technique called scaling: manually removing plaque and calculus with specialized instruments called scalers. If the infection has progressed well below the gum line we may also use root planing, a technique for "shaving" plaque from root surfaces.
Once infection reaches these deeper levels it's often difficult to access. Getting to it may require a surgical procedure known as flap surgery. We make incisions in the gums to form what looks like the flap of an envelope. By retracting this "flap" we can then access the root area of the tooth. After thoroughly cleansing the area of infection, we can do regenerative procedures to regain lost attachment. Then we suture the flap of gum tissue back into place.
Whatever its stage of development, it's important to begin treatment of gum disease as soon as it's detected. The earlier we can arrest its spread, the less likely we'll need to employ these more invasive procedures. If you see any signs of gum disease as mentioned before, contact us as soon as possible for a full examination.
If you would like more information on preventing and treating gum disease, please contact us or schedule an appointment for a consultation. You can also learn more about this topic by reading the Dear Doctor magazine article "Treating Difficult Areas of Periodontal Disease."
By Lee Oppenheimer, DDS, PA
October 12, 2019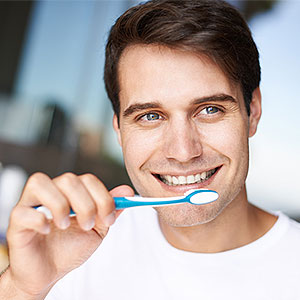 Here's an alarming statistic: Nearly half of adults over 30—and 70% over 65—are affected by periodontal (gum) disease. It's sobering because if not caught and treated early, gum disease can lead to not only tooth loss but also an increased risk of heart attack or stroke.
Gum disease most often begins with dental plaque, a thin film of bacteria and food particles that builds up on tooth surfaces mainly from poor oral hygiene. Undisturbed plaque can become a breeding ground for bacteria that cause gum infections.
Daily brushing and flossing can remove most of this plaque buildup, but you also need to get professional dental cleanings at least twice a year. This is because any plaque you missed brushing and flossing can interact with saliva and harden into calculus or tartar. This hardened plaque can't be dislodged through brushing and flossing alone, but requires special instruments used by dental professionals to remove it.
You should also be aware of other risk factors you may have that increase your chances of gum disease and take action to minimize them. For instance, you may have a higher genetic propensity toward gum disease. If so, you'll need to be extra-vigilant with personal hygiene and watch for any signs of disease.
Tobacco use, especially smoking, can double your chances of gum disease as well as make it difficult to notice any signs of disease because your gums will not bleed or swell. Quitting the habit can vastly improve your odds of avoiding an infection. Your disease risk could also be high if you have a diet heavy in sugar, which feeds bacteria. Avoiding sugary foods and eating a more dental-friendly diet can lower your disease risk.
Oral hygiene and managing any other risk factors can greatly reduce your risk for gum disease, but it won't eliminate it entirely. So, be sure you seek professional dental care at the first signs of swollen, reddened or bleeding gums. The sooner you undergo treatment for a possible gum infection, the better your chances of avoiding extensive damage to your teeth, gums and supporting bone.
The risk for gum disease goes up as we get older. But by following good hygiene and lifestyle practices, you can put yourself on the healthier side of the statistics.
If you would like more information on gum disease care and treatment, please contact us or schedule an appointment for a consultation. You can also learn more about this topic by reading the Dear Doctor magazine article "How Gum Disease Gets Started."